A huge thank you to everyone who entered our Tree for Treats competition, you have completely transformed our tree into something magical!
We were blown away by everyone's creativity and choosing a winner was very difficult indeed. Here are the entries for you all to enjoy.
Congratulations to our overall winner Erin Williams (5) who sent in this fantastic home-made paper bauble.
We felt this bauble was special because of all the wonderful patterns of different textures that Ellie added to the design. She has used foil paper scraps, scrunched up tissue paper and pipe cleaner stripes. Ellie has also added bells which add an extra sensory element. We all loved how tactile it was and it looks perfect on top of our tree.
In second place are sisters Ellie (9) and Keira (4) Clark. They made Christmas spiced salt dough and cut it into tree shapes which they then baked and then painted green. The tree shapes have been slotted together to make 3D decorations. Ellie decorated hers with pom poms, gems and foam dots. Keira used foam dots and glitter. They both look and smell really wonderful and we loved receiving the Braille tags. Thank you for your hard work making us these lovely decorations for our tree.
In third place is Emma Amos (13) who baked and decorated these lovely Braille biscuits. The biscuits are baked with Christmas spices and you will have to take our word for how delicious they smell! Emma cut them into different Christmas shapes, iced them and added silver balls for the Braille. Well done Emma, enjoy your prize and have a very happy Christmas!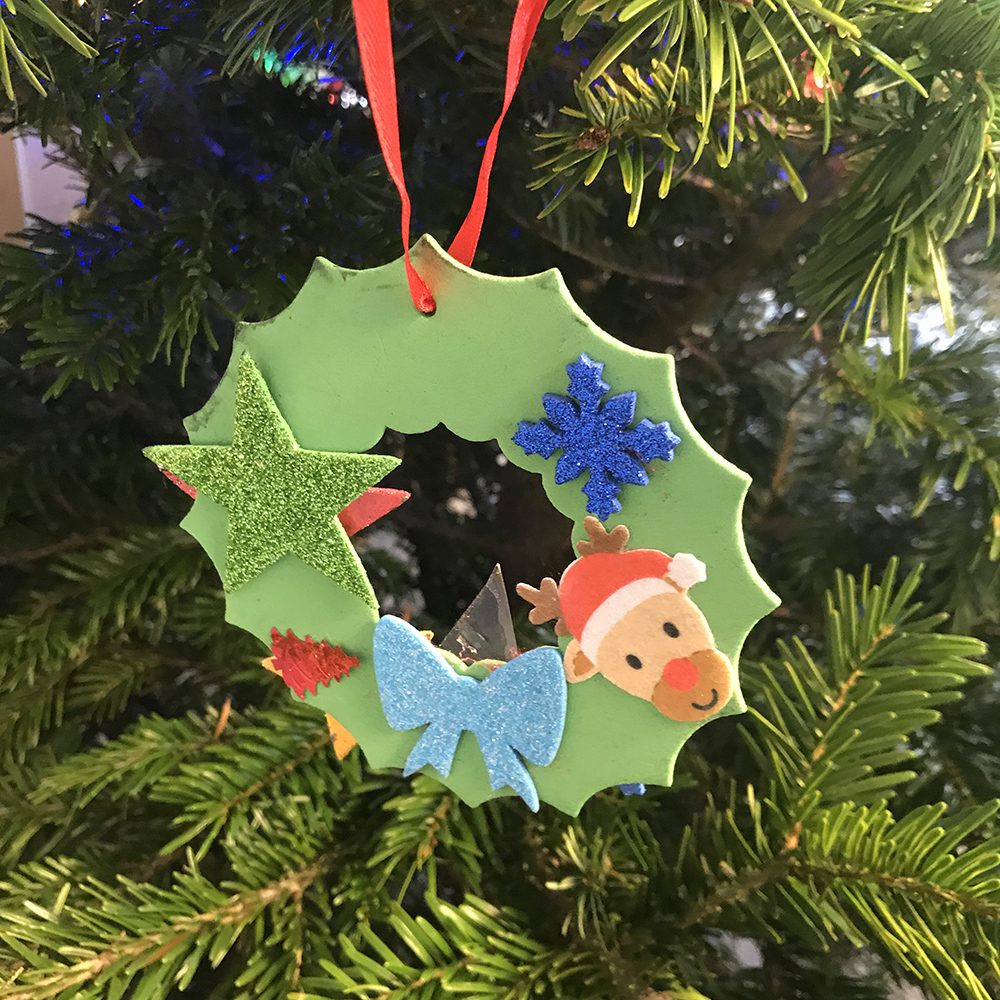 The photos show wonderful baubles and Christmas wreaths the children decorated at our Family Christmas Party. The baubles are brown card spheres and the wreaths are made of green foam. The children decorated them with foam stickers in the shape of snowflakes, Santas, bows, holly leaves, candy canes, baubles and stars. They have added glitter and pom poms to make them extra tactile and sparkly.
A big thank you to Dextar (4), Laycie (6), Abhishay (5) who made a Christmas donut!, Kyla (12) who added extra glitter and colour, Michaela (10), Brianna (10) who designed her decoration to symbolise her family and friends and the fun and love they go through and Elleshia (16) who decorated hers with stickers and red ribbon.
Paper snowflakes decorated with glitter by Ruby (6)
Paper snowman by Jasper (7)
Paper decoration by Pippa (5)
The children from the VI provision at Dalton School have worked together to make this beautiful string of festive fairy lights. Each child has made a different design to sit over a light and each has decorated theirs beautifully. We have Santas, reindeer, a tree and stars, all decorated with all sorts of wonderful colours and textures! A big thank you the school for their creativity and imagination, they look so magical hung on our tree.
Eliza (4) has folded and glued green paper in a concertina style in the shape of a tree, so that it fans out and becomes 3D. She has then decorated the tree with pom poms and scrap paper and tied a ribbon around the base. Such a lovely idea and it looks amazing hanging on our tree.
We absolutely love this glass bauble decorated like a VICTA rainbow with coloured pipe cleaners wrapped round it. The rainbow theme is perfect on our tree and the pipe cleaners make it really tactile, so bright and cheerful! Well done to Stevie (10), enjoy your treat!
A big thank you to Om and Ayushi (both 8) who made these lovely Father Christmas decorations. They made the faces by drawing around their hands and then cutting the shape out. The hands are turned upside down so that the thumb is Santa's hat and the fingers are his beard. His beard and hat bobble have been made extra fluffy by cotton wool which has been stuck on. Thank you so much for sending them in, they are as jolly as Santa himself!
We absolutely love these decorations sent in by sisters Sophie (8) and Kate (10) and they are a great idea to try at home!
Sophie made a reindeer's head by sticking together cinnamon sticks which also smell nice and Christmassy. She has added the finishing touches of wobbly eyes, a bell for a nose, a pasta bow and gold pipe cleaner antlers.
Kate (10) has stuck together pasta shells to form the shape of a 3D Christmas tree. The pasta has been transformed into something magical after being sprayed silver and having pink balls stuck inside them to look like baubles.
Today's beautiful clay decoration was sent in by Alana (16). Alana, who is blind, added the textures and finishing touches to the ornament which are what make it so special!
Thank you to Lucas (6) who made this amazing decoration out of lollipop sticks. Lucas has stuck three sticks together to make a triangle shape and then decorated them with sequins, glitter and shiny pipe cleaners.
Thanks to Ellie (11) who made these brilliant bead decorations. Ellie also sent us a lovely letter to explain how she made them and that she designed the pictures herself! The designs are absolutely fantastic, well done Ellie we love them. Santa and the Christmas tree look wonderful hanging on our VICTA tree.
Caitlin (10) made this beautiful felt tree in textiles – she has stuffed the fabric and sewn the edges together. The green felt is sparkly and has been decorated with dangling Christmas lights and a bell on top of the tree. We hope you enjoy your well-deserved treat!
Thank you for all of your wonderful decorations, Merry Christmas!