Another fantastic year of fundraising at Highfield Awarding Body for Compliance was rounded off this month with a day of festive fun at head office.
All of the staff got involved wearing their dazzling Christmas jumpers and spread the Christmas goodwill by kindly donating £2 each.
There was even more fun to be had with the chance to decorate a Director with a small charge per decoration. Highfield Directors Chris and Jason were truly sparkling by the end of the day and altogether the team raised a fantastic £339.
And this was only the tip of the Christmas iceberg at the end of a busy fundraising year. There have been a number of fundraising events at Highfield throughout 2015; some sporting, some creative and some daring!
The Dubai team raised £1,142 bravely jumping from a plane (not for the faint hearted).
In April Chris Sprenger, Dom Binks and Ben Cressey joined Team VICTA for our biggest fundraising event of the year – the Virgin Money London Marathon. Together they raised almost £5,000 and crossed the finish line with some impressive times. We are pleased to welcome Ashley Reddy, James Hibbitt and Adam Glynn to our 2016 team.
There are many more events to mention – a spooky team effort at Halloween, the Chesterfield fun run and Mike Stark going sober for November raising £990!
It is not just the funds we have to thank Highfield for; staff members also gave us their time which is just as vital to the running of our activities. Laura Clifford, Eleanor Cowin, Bethany Stewart, Rachel Collings, Stephanie Proctor and Kirsty Mackell all joined us at our family weekends. They threw themselves into the weekends wholeheartedly, supporting the children as they took on activities such as zip wires, raft building and the giant swing. The weekend means so much to the families who attend, parent Wendy said:
My children got the opportunity to support each other and enjoy team work. Josh got to be with other visually impaired children. Chloe realised she wasn't the only sister in the world with a disabled brother. They reached out to other adults who weren't family – a big plus – and a massive thank you to all the amazing volunteers and staff without which none of this would have been possible.

All the children on the weekend, regardless of ability, were lovingly encouraged out of their comfort zones thus enabling them to conquer challenges that they would have probably never thought they could do; what a confidence booster and an amazing opportunity and memory for children to take home with them.

When I was lucky enough to catch a glimpse of the kids in action I could see they were so happy and wonderfully supported. The encouragement of their team leaders and volunteers was very powerful.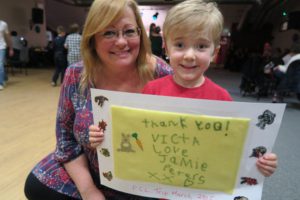 Highfield have introduced a 'VICTA star of the year' award this year and we were delighted to learn they have awarded it to Beth Stewart. Beth has become a relied upon and much valued VICTA volunteer over the last couple of years, bringing enthusiasm and dedication to every activity she attends. Well done Beth!
We hope to welcome back our Highfield volunteers on our activities in 2016 and will be sure to keep following your fundraising adventures.
The outstanding grand total raised by Highfield staff in 2015 for VICTA is…
£8,255
This will go a long way to supporting children and young people who are blind and partially sighted and their families. Your hard work will truly make a big difference so thank you from everyone at VICTA and happy Christmas!