Over the year VICTA have received great support from Highfield Awarding Body for Compliance – both through their fundraising and volunteering. After running the London Marathon for VICTA earlier this year, Managing Director Chris Sprenger was taken with our charity and wanted to get further involved. From this, Highfield selected VICTA as their company charity and we have been blown away by their support ever since. They have never ceased to amaze us with their creative money raising antics – from ice bucket challenges to a Halloween theme day: whatever they do they throw themselves in wholeheartedly.
We were very lucky to have some Highfield staff members join us as volunteers at our family weekend this year and not content with this, also filmed and produced a wonderful video for us. In November Highfield invited VICTA to attend their annual conference, this year held at one of the world's most instantly recognisable venues, Old Trafford Stadium. The conference opened with a charity dinner the night before which was attended by VICTA Chief Executive Tracie Tappenden and Samantha Hemming. They were overwhelmed by the support and kind words from the Highfield team and lengths they had gone to raise funds and build awareness of our charity.
Tracie gave a presentation at the meal about VICTA and the positive impact our activities and grants really have on people's lives. This was followed by a charity auction with a very generous bid for a Manchester United shirt signed by football legend Dennis Irwin.
The next day at the conference there was also a raffle, with some incredible prizes:
Meal for two at La Gavroche (with thanks to VICTA patron Michel Roux Jr)
Overnight stay at Trafford Park Hotel
Tea for two at the Ritz
Frank Skinner tickets
Various luxury hampers
£50 Marks and Spencer vouchers
Luxury coffee machine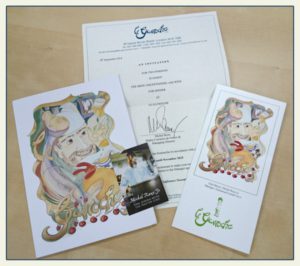 Tracie did a very entertaining raffle draw and we are looking forward to watching the video footage! John Farnworth, the Guinness World record holder for football freestyling, showcased his awe inspiring skills. All in all it was a wonderful and entertaining evening which we were honored to be a part of.
This incredible event raised a whopping £4653.38 and on top of this VICTA acquired some new volunteers. We would like to thank Highfield for their continued support and generosity – the difference this support makes to our families is undeniable. If you would like to follow Highfield and their fundraising story you can do so on their twitter feed @HighfieldABC or youtube channel.